Mesotherapy is a series of tiny superficial injections of a cocktail of vitamins, minerals, anti-oxidants, and amino acids that improve skin health and appearance.
Mesotherapy is a series of micro injections of vitamins, minerals, anti-oxidants, and hyaluronic acid that improve skin health and appearance.
What happens during Mesotherapy?
You have a choice of treatment options however the ultimate combination treatment includes a light peel, Mesotherapy with NCTF 135HA using Micro-channelling or Nappage techniques the targeting areas with Nanosoft.
Finally a Hyaluronic Acid mask is applied while you lay under the Dermalux LED canopy. This 360 degree approach provides the skin with everything it needs to reach maximum skin health and vitality.
How will my skin look after my treatment?
The first reaction from clients when they look in the mirror after Mesotherapy is "WOW!" the refreshed glow and plump hydrated look that gives you fantastic skin, a more youthful looking skin that looks hydrated, bright, with improved texture and tone.
Some people experience some minimal redness which can last up to 48 hours but usually disappears within a few hours of the treatment. You may also see small papules under the skin where the Nanosoft was used to target specific areas, again these can last up to 48 hours but usually disappear within a few hours.
When will I see results?
You will see an instant improvement in overall skin hydration, texture and colour. This will continue to improve and maintain after the recommended course of 6 treatments.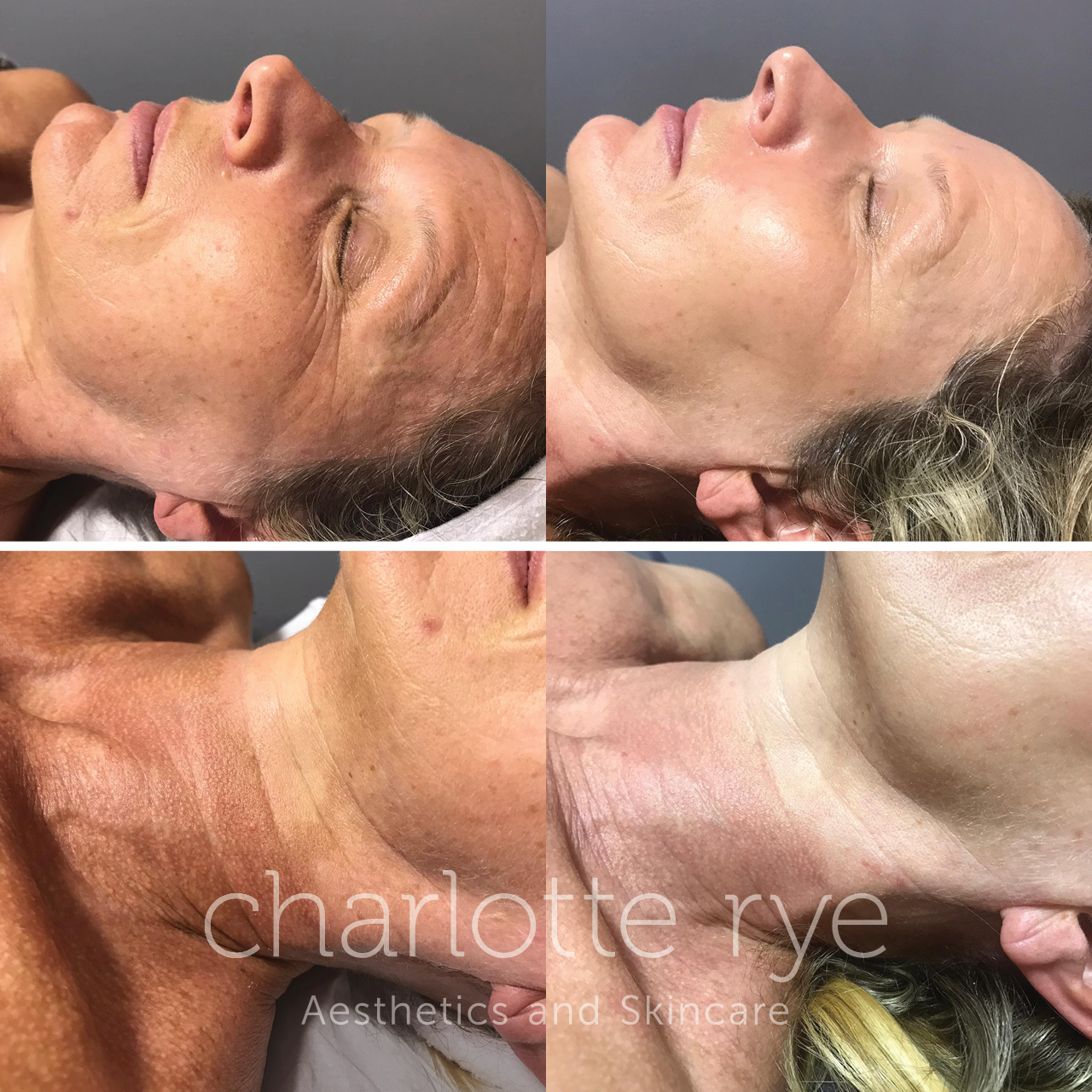 The image above shows real results a month after a courser of 6 treatments.
More prominent imperfections such as pigmentation, scarring, lines, dehydration, sensitivity and breakouts will improve as you progress through the course of treatment and continue to improve for up to 12 weeks following treatment. Results can last up to 2 years with continued homecare and regular maintenance facial treatments every 4-6 weeks.
Does Mesotherapy hurt?
In most cases, it is virtually painless with no more than a mild prickling sensation.
How often should I have Mesotherapy?
The initial course is 6 treatments coming once every 2 weeks. During each treatment a combination of treatments can be used to maximise results.
---
Mesotherapy Treatment options
Mesotherapy
Mesotherapy, includes a light peel, Nanosoft channelling Dermalux LED Photofacial.
Single treatment 90 minutes. £165.00
Course of 3 £415
Course of 6 £825
Beautif-eye Treatment
Beautif-eye Mesotherapy treatment includes eye peel, Nanosoft application of NCTF, eye mask and Dermalux LED Photofacial
Single treatment 60 minutes. £120.00
Course of 3 £310.00
---
Mesotherapy Pre-treatment and Aftercare
Pre Treatment
For best results and to reduce complications it is recommended that you are using a Cosmeceutical skincare home regime and this should include a broad spectrum SPF with a minimum of SPF 30.
Avoid Sun exposure or use of indoor tanning at least 2 weeks prior to treatment.
Avoid the use of Retinol, Retin A or Tazorac for 48 hours prior to treatment.
Avoid the use of AHA's or BHA's on the day of the treatment.
Do not wax, use hair removal cream or hair bleaching products a minimum of 48 hours prior to treatment.
Avoid any heat treatments such as sauna or steam for 24 hours prior to treatment.
Immediately After Treatment
At the end of the treatment products have been applied to your skin. If possible leave the treated area for at least 8/10 hours or overnight if possible.
Unless otherwise directed by a physician do not use any active products containing Retinol, AHA's, BHA's and Prescription based skincare for 48 hours.
Wear an SPF30 or higher making sure to re-apply if you are spending any length of time outdoors.
Avoid make-up if possible for a minimum of 48 hours, mineral make-up may be used.
Avoid touching the treatment area as much as possible.
General After Care Advice
Avoid any form of heat treatment for 48 hours including exercise where you will get hot and sweat.
Avoid swimming for 48 hours.
Avoid any other forms of facial treatment for at least 7-10 days, including Laser hair removal in the treatment area.